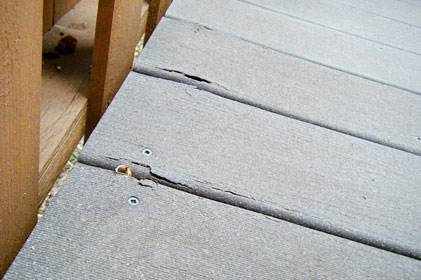 Potential Safety Hazard
In August of 2008, LP Building Products (Louisiana-Pacific) issued a Product Advisory for decking products, including railing and accessories, sold from its Meridian, Idaho plant after January 1, 2005.
Due to a subsequent deck step-through that caused an injury, LP was required by law to report this to the Consumer Products Safety Commission (CPSC). We are now working in conjunction with the CPSC on a decking product recall, although the program is no different than previously reported to you. The CPSC issued a press release about the decking recall on May 13, 2009.
We want to stress that there are no changes to the program or process for deck inspection or replacement. As we have been doing since August 2008, LP will continue to replace at no charge the limited number of decks determined by inspection to be affected by deterioration.
Some of the product can prematurely deteriorate and break, posing a risk of injury.
Deck owners should check decks for safety and call LP customer service at 1 (888) 325-1184. Homeowners are asked to stay off decks that show signs of deterioration.
Products Subject to Recall
WeatherBest® decking and railing, sold nationwide at building products dealers after January 1, 2005
Veranda and ABTCo decking and railing, sold at The Home Depot after January 1, 2005 in the western U.S. - AK, AZ, CA, CO, HI, ID, MT, NM, NV, OR, UT, WA, WY, and TX (El Paso markets)
Weatherbest and Veranda products produced after November 2007 were not manufactured by LP and are not included in the recall.
Only products manufactured at LP's Meridian plant are subject to this recall.
What You Should Do